Post by PeterW on Jul 6, 2009 17:42:51 GMT -5
Hi all,
In Sherri's thread 'Our New Grandson' I mentioned that I had the circuit diagram and calibration instructions for Praktica TL Series light meters actually to hand. So before they disappear into what passes for my filing system I thought I'd post them here in the Work Bench section. If you think you might need them at any time copy and print them with my compliments and, I'm sure those of the original authors.
I was given this information some years ago by kind people on two of the camera forums to which I subscribed at the time when I was having problems with the circuit on one of my Prakticas. I would love to give them credit here, but I've forgotten their names and also on which forums they were originally posted. So if they read this and let me know I will be only too pleased to credit them. One, I think, used the forum name of allpix or something similar, and the other was in India. So if either of you read this and recognise yourselves, please let me know.
OK, so you've got one of the TL series Prakticas on which either the meter doesn't work or it works but it is wildly out in its readings. Let's assume first that it doesn't work at all when you try it. Obviously the first thing to check is that the battery has some life in it and that it is making good contact. If someone left an old battery in there and it has corroded, clean off the corrosion with some vinegar on a cotton bud (Q-Tip), then go over with some isopropyl alcohol, and give the contact faces a gentle wipe with commercial switch contact cleaner.
Next, find a battery that will fit or can be adapted to fit with something like a rubber O-ring. It doesn't matter if it is silver oxide, alkaline or whatever so long as it is in the rough range of 1.3 to 1.6 volts. This is the sort of voltage the circuit likes to handle. It is a Wheatstone Bridge circuit which means that it isn't voltage dependant.
Basically, and without getting too technical, the battery has two 'voltage divider' circuits connected across it.
There is a meter which connects between these two circuits and indicates the voltage difference between them. The film speed/shutter speed selector with two small pre-set trimming resistors forms one circuit. The other is a larger pre-set resistor and a Light Dependant Resistor which changes its resistance according to the amount of light falling on it. It's commonly called a light sensing cell and lives up near the pentaprism.
There's a push button on the camera to bring this and the meter into circuit. There's also a second switch to switch the battery on and off. The meter indicates whether or not the two voltage divider circuits are in balance. If they are, the meter needle is in the centre position. If it isn't, move the shutter speed / ISO dial until it is. The middle position should be when the shutter speed and ISO give the correct exposure for the chosen lens aperture. You can get all this from the camera user's handbook.
Here's a schematic of the circuit diagram.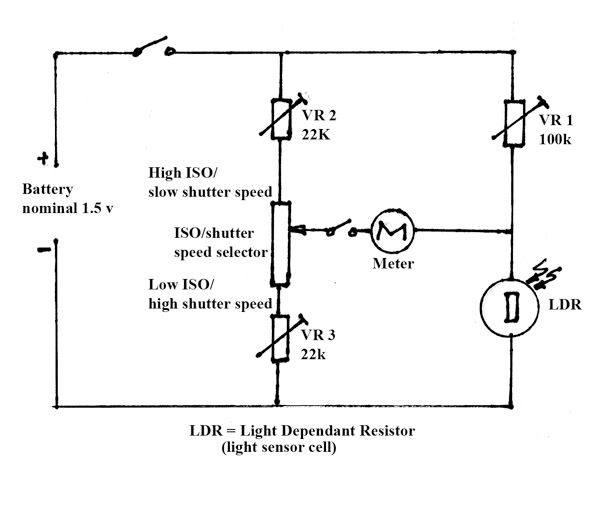 The whole circuit apart from the meter and its switch is on a printed circuit board (pcb) in the bottom of the camera which is quite easy to get at. Take out the battery, undo four screws on the camera baseplate and take it off. Don't lose the rewind button and remember that it fits properly only one way round, so when you put it back turn it till it fits nicely The pcb is there right in front of you. First of all, make sure it is firmly fixed to the camera. There's only one screw holding it, and it sometimes works loose so that the battery loses contact intermittently. I made a sketch, not to scale, of the pcb looking at it from the bottom of the camera.
OK. You've made sure the pcb is firm, you've cleaned the battery contacts and the battery switch contacts and put a good battery in there. Now, we hope, the meter gives some sort of a reading. You can even turn the speed/ISO dial so the meter indicates a central position indicating that the two voltage divider circuits are in balance. If the meter stays completely dead then I'm afraid you're on your own. I don't know how to troubleshoot it. I've had several TL series Parkticas and haven't come across a completely dead meter once the switch and battery contacts were cleaned.
If the exposure indicated agrees within half a stop or so of the exposure given by either a hand-held meter or another TTL camera which you know is accurate, you've done the job. But what if the exposure indicated by the Praktica is wildly out, like three or four stops out?
This means that the circuit needs recalibrating, and this is what the three pre-set resistors are for. I've labelled them VR 1, VR 2 etc, short for Variable Resistor 1 and so on because that's what they're commonly called. Strictly speaking they are pre-set resistors because once you've set them and got the circuit calibrated you leave them alone.
How do you calibrate the circuit? I've no doubt that at the factory there was a piece of equipment which made calibration quick, easy and certain, but we haven't got that. The only way I know to do it is by trial and error. It isn't a quick process, but when I followed the instructions I was given it worked, and when I'd finished the meter stayed accurate for the rest of the time I used the camera.
Ideally you should also have either an accurate hand held meter or another TTL camera which you know is accurate to tell you what the exposure should be. On a dull or overcast day you can't do without one or the other of these, but on a sunny day you can use the rule of thumb known as the 'sunny 16 rule'. Just in case you haven't come across this the rule says that on a sunny day the exposure at f/16 will be the reciprocal of the film speed. So, for example, if you're using a film with a speed rating of 200 ISO, the exposure will be 1/200 sec at f/16. You can work out the shutter speed at other stops from this. It's not an infallible rule, but generally it will give an avaerage exposure within the tolerance of most black and white or colour print film.
Here's a sketch (not to scale) of the pcb
In the colour code R = red. Sorry, I missd it off the sketch.
Having found out what the correct exposure should be, let's calibrate the Praktica's circuit to give this exposure when the meter needle is in the mid position. Two or three methods were offered, but this is the one I eventually used. Remember I said it isn't quick, because you have to take off the bottom plate and battery every time you need to make an adjustment. No doubt a 'skeleton' bottom plate with holes in it through which the pre-sets can be reached would save a lot of time but I hadn't got a spare bottom plate so I had to do it the long way. I didn't replace all four screws holding the bottom plate each time, I found that two held it firmly enough for testing provided I didn't bump the camera.
Start by setting VR 2 and VR 3 to be equal. I turned them both fully anti-clockwise and then back clockwise about a quarter of a turn. I used my Canon A1 which I knew had an accurate meter to take a reading about five feet away from a grey-painted garage door which was the nearest I could get to a neutral colour, and worked at an ISO setting of 200. Then I set the Praktica to give the same shutter speed at ISO 200, put the bottom plate on and tried the meter. It was quite a way out from the centre 'zero' position. I took the bottom plate off again and adjusted VR 1 a small amount each time, trying the meter each time, till I got it to read the mid position.
I was told that very low values of VR 2 and VR 3 made the meter very sensitive; higher values made it less sensitive. The main thing was to set them to the same amount. I settled on a quarter of a turn from fully anticlockwise as a good working compromise.
I think I took the bottom plate off and put it back on four or five times while adjusting VR 1 to get a mid-point meter reading, but once I had it I buttoned everything back up and tried a 200 ISO colour print film under various lighting conditions. The resulting prints were fine, all seemingly properly exposed, well within the film's tolerance. I got similarly good results using a 400 ISO colour print film so as these were the two film speeds I generally used I was happy.
Hope this all of some help.
PeterW