Post by nikkortorokkor on Aug 19, 2007 2:12:45 GMT -5
I got the Ricoh, and here it is:
The big wing on the side of the lens is the 'triggermatic' i.e., shutter release. It is very smooth.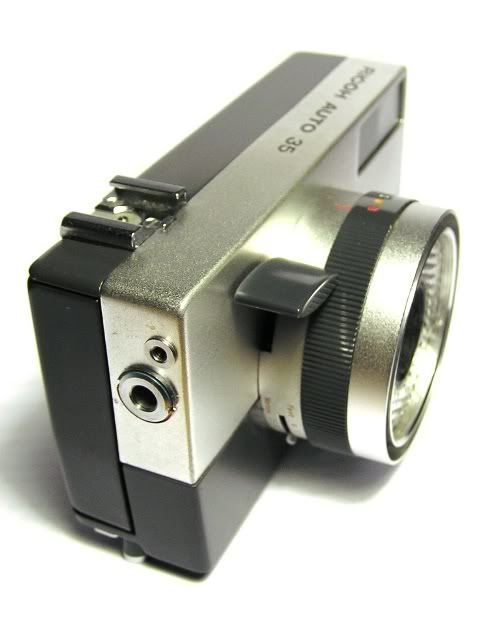 The little socket is for a self-timer. The big socket is for the camera strap, which has ends like a small RCA plug. The strap bayonets on and off. Brilliant!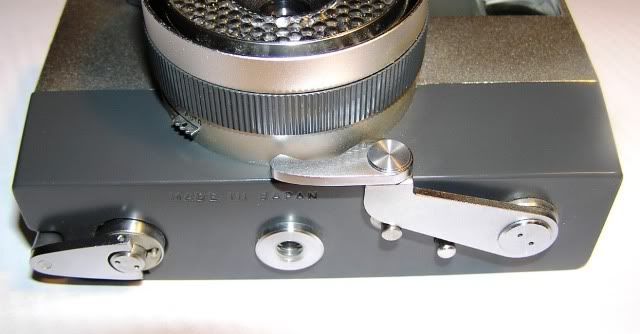 That, my friends, is no mere winder underneath the camera, it is the 'Triggermatic action lever' Ricoh promised that 'The unique TRIGGERMATIC ACTION LEVER is especially outstanding when speed and continuous shots are required. Split-second film winding enables photography at the rate of 10 shots every 10 seconds.'
I actually believe 'em. When you adopt the right hold the (noisy) Triggermatic action lever is fast to use.
No ASA/DIN/ISO. Just 'Film 6 5 4 3 2 M B' around the lens and this chart on the back.
The system is quite cunning, and goes like this: M = 1/25, 2 = 1/25, 3 = 1/32, 4 = 1/50, 5 = 1/100 & 6 = 1/160. On Auto, the coupled selenium metre selects the aperture.
The Selenium meter has a needle in the finder. It's a simple 'if the needle is in the red, use a flash' system.
I suspect that the meter is a bit sluggish now, though the needle still responds to light. Luckily, there is a manual aperture lever for flash photography situated underneath the lens 24 feet = f/4, 12 feet = f/8 and 6 feet = f/20. If I want to take photos I should be able to do some math and get an exposure close enough for modern print film.
You can probably tell that I'm quite chuffed by the little Ricoh. It is really not my type of camera (I'm a control freak) and yet I find its looks and function charming. The camera is extremely logical to work on (I pulled it apart with ease to clean the finder, and it is remarkably well made for an early P & S. I think it first went on the market in 1960. Remarkable.
The manual can be found here:
www.butkus.org/chinon/ricoh/ricoh_auto_35/ricoh_auto_35.htm
It's a brief and well illustrated read.